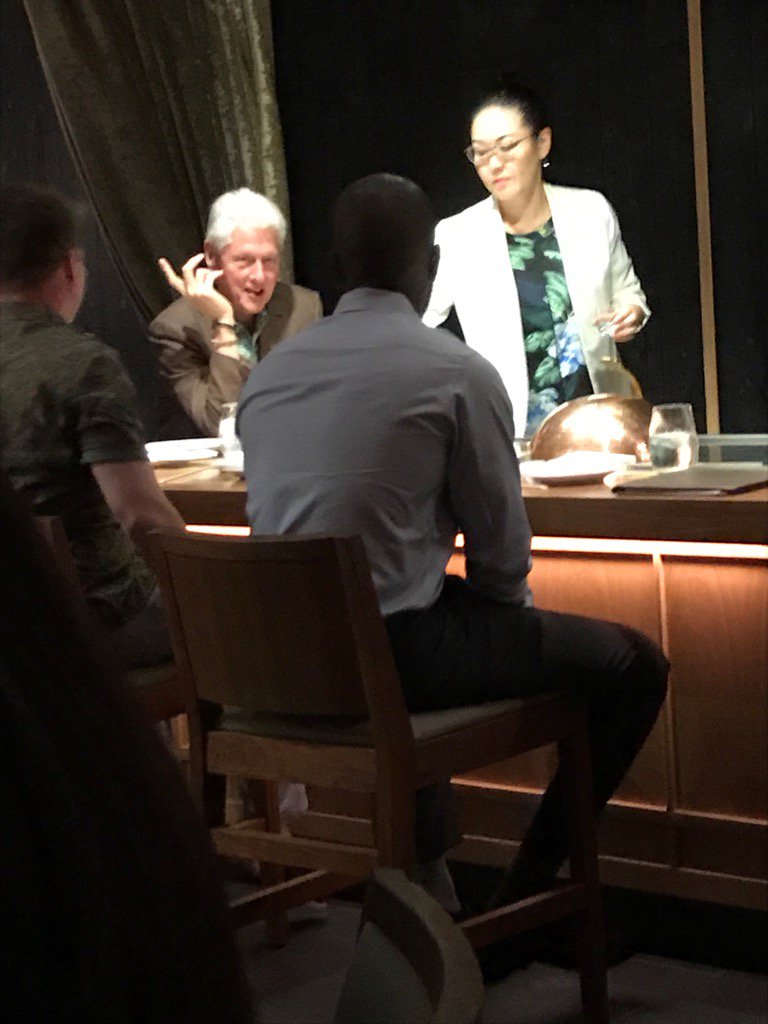 Food? What amazing food? And what was our order again? Those were the thoughts that were going through my mind (and probably others) as former President Bill Clinton walked through the door to dine at Nobu Honolulu
Saturday night
with a security detail in tow.
Mr. Clinton arrived at Nobu around 8 p.m. after giving the keynote address at an event earlier in the evening at the University of Hawaii Manoa in Honolulu. Dining just feet away from No. 42 with my fiancé during my birthday dinner, I quickly realized what people were referring to when they mentioned the "star-power" and "charisma" that he possesses. As soon as he walked into Nobu, which is located on the ground floor of The Howard Hughes Corp.'s Waiea luxury condominium in the Honolulu neighborhood of Kakaako, no one could focus on their amazing food and drinks anymore including us. There were tourist and local couples, as well as people from Japan. It was a treat to be in the same restaurant with one of our presidents.
Nobu, which has several locations around the world, was created by celebrity chef Nobuyuki "Nobu" Matsuhisa and actor Robert DeNiro.
While there was lots of electricity in the air, I was thoroughly impressed by the professionalism of Nobu's staff, who remained calm and collected. Myself, on the other hand, couldn't just let this night pass without snapping a photo or two of No. 42. I blame it on my reporter/journalist instincts, always trying to document things either through writing or photos.
Mr. Clinton came dressed rather appropriately for Nobu Honolulu's casual-dining scene, with a coat flanked over an Aloha Shirt. After chatting with a few people for a few minutes, he eventually sat at a table in the corner near the entrance of the restaurant with former Hawaii Gov. John Waihee and his wife, Lynne. I did not see what they were eating, but it wouldn't be a surprise if they either ate sashimi or sushi, two of the more popular items on Nobu's menu.
Mr. Clinton also wasn't the only celebrity in the house as San Francisco 49ers football players Arik Armstead, Ronald Blair and Eli Harold dined at a nearby table, arriving shortly after the former president.
The NFL players did manage to get a photo with Mr. Clinton, as evidenced by Armstead's Instagram account. We left before Mr. Clinton was finished dining with the Waihees, so we weren't as lucky to catch up with him for a photo. Not a bad night at all, though, seeing a president, NFL players from my favorite team and of course, dining with my favorite of all-time.